On Saturday June 12, 2021, VFW Post 322, Quilts of Valor and ~60 friends and family thanked 13 Veterans and frontline responders for their service, sacrifice, and valor by presenting them with their own personal Quilt of Valor. Those honored included 5 Englewood Police Officers, an Arapahoe County 911 Dispatcher and 7 VFW Post Veterans. Quilts of Valor is a foundation dedicated to creating and presenting handmade quilts to military service members and veterans touched by war, regardless of the conflict. VFW Post 322 was honored to host this incredible ceremony for our veterans and first responders.


Presenting these quilts was Colorado State Coordinator, Alycia Carmin, who explained these quilts are made specifically for each recipient. She shared that some of these quilts had help from 4th graders, law enforcement spouses and high school students. The network of folks who put in the time and effort creating these quilts is quite expansive and is spread throughout the United States. These quilts are made with love, prayers and healing thoughts to help provide comfort to those who may still be dealing with the effects of their conflict. After sharing the recipient's stories Alycia presented them with their quilts and wrapped the quilts around them.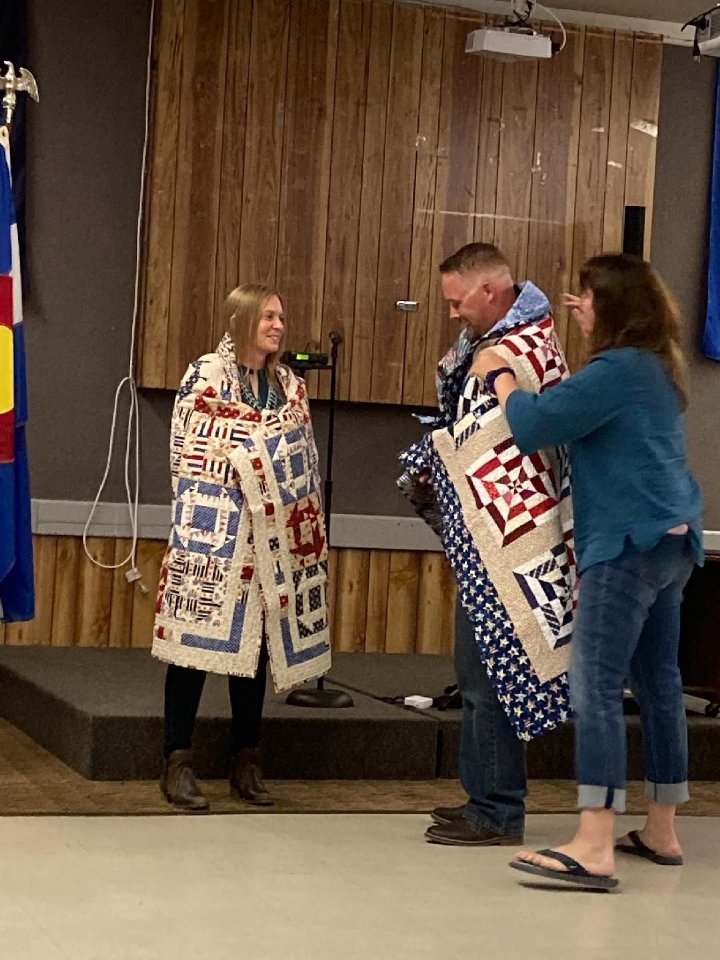 It was truly a wonderful ceremony that touched the hearts of many and even produced some tears. F
or more information on or to donate to VFW Post 332 please visit
www.vfw322.org
and f
or more information on or to donate to the Quilts of Valor Foundation, please visit
www.QOVF.org
.