VFW Post 322 the honor of assisting a young military veteran family recently. Tyler is a member of the Colorado Air National Guard and is also a Colorado State Trooper. Here is their story in his wife Merissa's words:
On April 29th my husband, Tyler, was diagnosed with a rare brain tumor called a central neurocytoma. While we thought it would be one surgery to remove the 2" mass, it became two when the surgeon ran in to some complications the first go round. He was only able to get half of "Cletus" (that's what we named the tumor) out in the first surgery on May 12th. Because of this, a second, more intensive, surgery was required to remove the other half of Cletus on May 14th.
The second surgery proved to be more difficult in the operating room and in recovery. What initially was expected to be a five day stay in the hospital has become a significantly lengthier stay.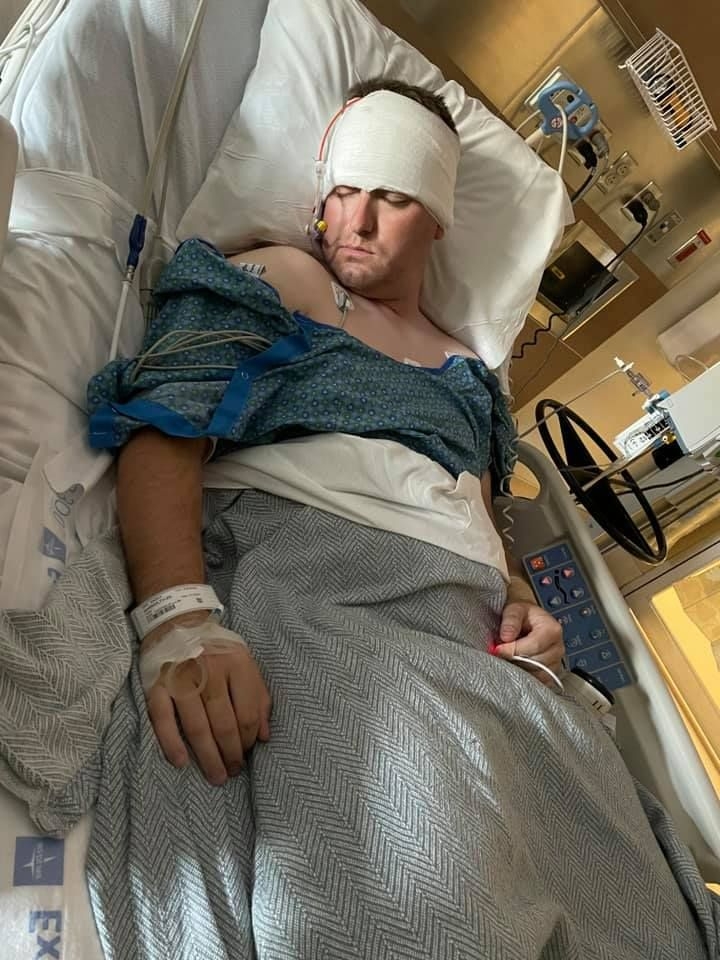 Because Jackson, our six-month-old son, is still breastfeeding, I need him to be close. And with COVID, he is not allowed in the hospital with me. We have been blessed to get a hotel room across the street from the hospital, but because of the longer hospital stay we are going to need to stay in the hotel for a lot longer than expected as well.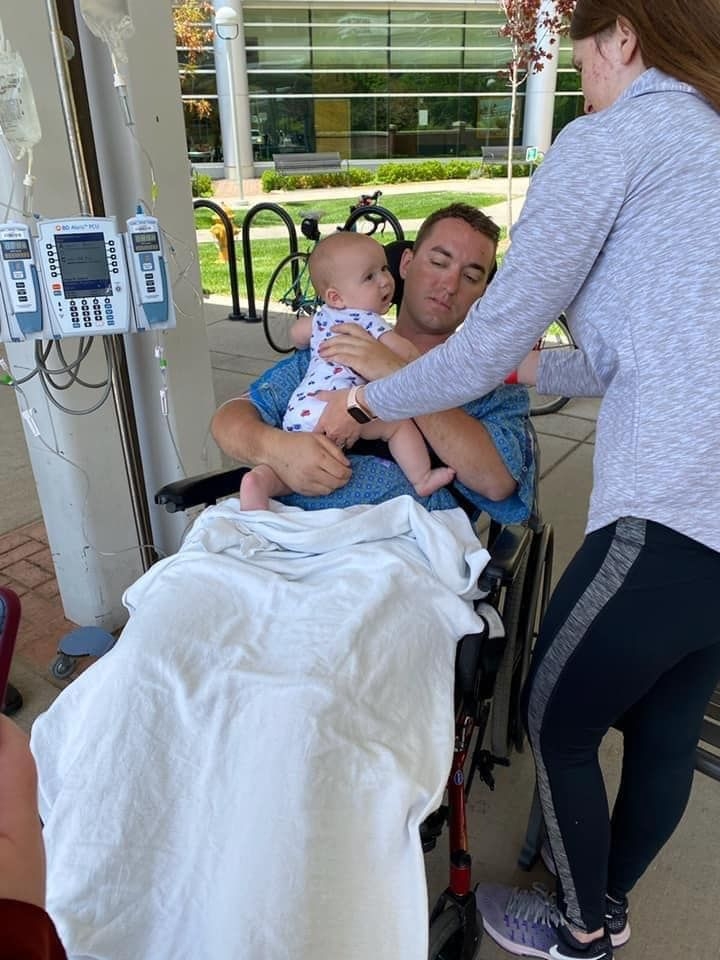 We are not sure how long we will need to stay in the hotel to support Tyler in his recovery, but many of you have asked how you can help support us, and this is one of the ways we can use your support in our journey to Tyler's full recovery.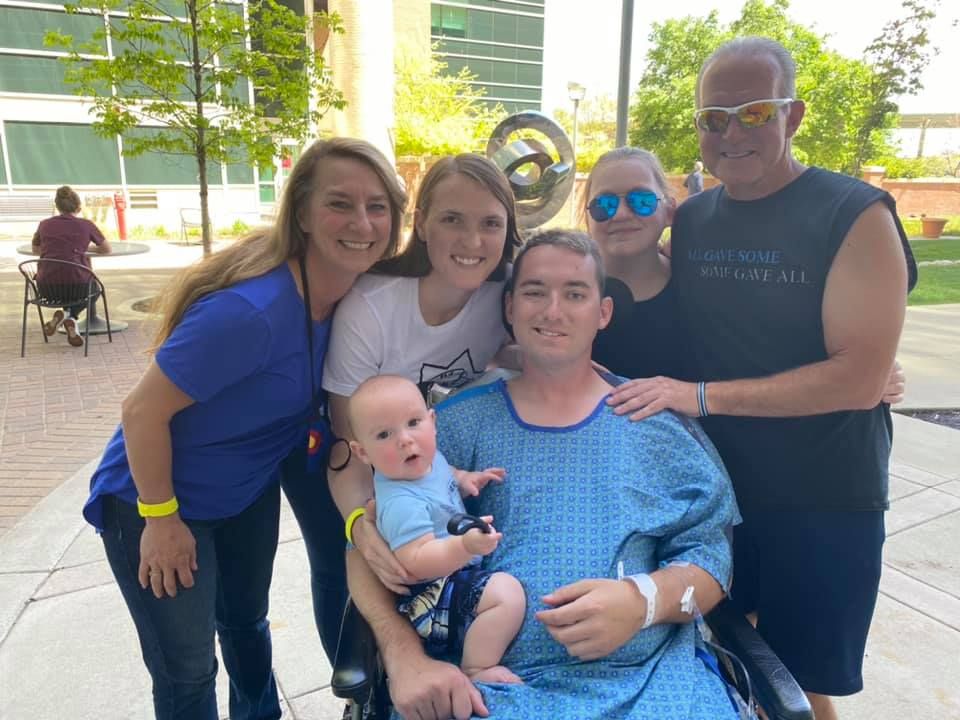 I want to sincerely thank you all for helping me keep our little family as close as possible during this trying time. We also appreciate all of the prayers and positive thoughts we have received and continue to receive. I would not be able to do this without all of you, so from the bottom of my heart... thank you!!
Tyler, walked out of the University Hospital without assistance on Monday, Jun 7. That's right, no wheelchair, he walked out under his own power.
Unfortunately, that powerful statement would be short lived. Tyler returned to the ER, June 9. Merrisa has more words after the ER visit:
Four weeks ago today, we started down one of our hardest roads yet. The famous words no wife wants to hear from their husband's brain surgeon are, "There were some complications." Tyler's whole left side of his body wasn't communicating with his brain properly and his brain wasn't processing the left side of the world. I was so afraid of what our future would look like. I was mad at the world. Why Tyler?! He is the most genuine and kind soul. He would do anything for anyone. He does not deserve this. But life never gives you anything you can't handle, right? At least that's what I keep telling myself.
Every day we were able to get Tyler outside to see Jackson, we took a family photo. I wanted Tyler to be able to see his progress because that's hard to do when you feel stuck in your own body. These photos ended up meaning the world to me too. These photos show how hard Ty worked to get us home. These photos show how much Ty loves that little boy. And these photos are a reminder to me of my whole world and why this is all worth it.
This road has been bumpy. This road has brought us to our knees. This road has flat out sucked. But this road has shown us so much love from our family and friends and from complete strangers.
As we ended up in the ER again today, I know this road is not even close to over and we will have to learn to live and grow with this for the rest of our lives, but I would not want to do it with anyone else.
Three brain surgeries later, a permanent shunt, numerous hours of therapy, an uncountable amount of tears, even more love and support, and we are finally back home together.
Tyler's visit turned out to be nothing to serious according to Tyler and was released to the care of his wife Merrisa. It's just one stumble in the long road to recovery. It's a road Tyler in more than willing to travel but at the moment is happy to just be home with his family and to sleep in his own bed.
VFW Post 322 was able to cover one week of Tyler's wife and son's hotel cost to help offset their costs. VFW 322 Auxiliary will also be contributing some financial assistance to their Go Fund Me account.
They still have a desperate need of assistance as there has been some complications. If you would like to help them directly follow the GoFundMe links to make a donation. https://gofund.me/20303240